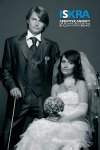 29 September 2006
Creative directors of Adventa launched ISKRA
Starting summer 2006 a new star of ad market - international creative ad agency ISKRA – was launched by Irina Demidova, Bogdan Kravchenko, ex Creative Directors of Adventa Communications, who put agency among five ad market leaders in 2004-2006.
They say: if you did it once, you 'll do it twice. But much better. It proves ISKRA launch that became a logical next step for its owners in terms of keeping creative traditions once started in Adventa Communications. Now ISKRA already has three new accounts in food category and a few launch ad campaigns for luxury brands.
ISKRA is not a creative bureau, oriented only on award winning creative works. It's not a full service classical ad agency, not flexible by origin. ISKRA plays a role of a producer for its clients. It offers creative solutions that bring profit to the clients, where the core issue is an idea whever it's brand development or communication.