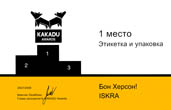 16 September 2008
ISKRА wins Gold at KAKADU awards & Silver at REX 2008
This year ISKRA collects gold and silver at national contests where judging is done by industry professionals.
At KAKADU awards creative directors of leading ad agencies of Ukraine become the judgies of their colleague's works.This year in "Label and Package" category of KAKADU awards 2008 ISKRA received gold award for design of fruit-&-vegetable preservation "Bon Kherson!"
REX 2008, 12th International Trade Show, took place September 16-19 2008 in Kiev.
In the frames of Trade show exhibition of advertising photography and graphic design, called REX Gallery, was presented by 180 ad works from 18 ad agencies and design studios. The judging was traditionally conducted by the experts in graphic design, members of Ukrainian Graphic Design Union.
ISKRA's poster "Babysitter for airplanes" made for AirCraft company received silver award.